If you or anyone in your household has any symptoms of Covid-19, please DO NOT book a face to face appointment. Please either book a telephone consultation here, or call 111 for further advice.
« Back to search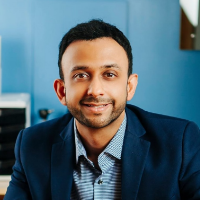 Dr. Rahul Sahay
Your GP Circle
Ashfurlong Medical Centre, Sutton Coldfield, Birmingham, B75 6DX
Request a time
Over 80% of patient requests are accepted by our doctors.
Hi, I am Dr. Rahul Sahay, one of the Co-Founders of Your GP Circle; a private GP service based in Birmingham / Sutton Coldfield.
I have been a GP Partner in an NHS GP Surgery with clinical and non-clinical responsibilities. I have a keen interest in Diabetes, Asthma and COPD management.
I am also an accredited GP Trainer, which involves GP Trainees / Doctors working alongside me for one year at a time whilst I help them to hone and develop their clinical skills as well as patient-communication skills.
I always place a heavy emphasis on involving patients in their care and decisions about their care, so that they fully understand what is happening and have options.
Through Doctaly & Your GP Circle, our ultimate goal and mission is to give people control over their health, and offer them a personal and exceptional experience when they consult with our GPs.
Education
I completed my Medical training in 2005 (University of Birmingham) and then my GP training in 2010 from Dudley. Since 2010,
Languages
English, Hindi, Urdu
Services
Diabetes review, Ear syringing, Fertility, Health screening, Joint injections, Men's health, Male medicals, Sexual health screen, Women's health, Weight loss
Please note that information on this page has been provided by the GP
Request a time
Over 80% of patient requests are accepted by our doctors.