If you or anyone in your household has any symptoms of Covid-19, please DO NOT book a face to face appointment. Please either book a telephone consultation here, or call 111 for further advice.
« Back to search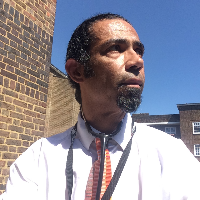 Dr. Christopher Udenze
Breathe London
Jubilee Hall, 30 The Piazza, London, WC2E 8HA
An expereienced holistic GP and medical acupuncturist, with intersts in physical and mental illhealth..
Education
Guy's Hospital Medical School 1986 MB.BS
Member of Royal College of General Practitioners
Diploma in Substane Misuse
Member of British Medical Acupuncture Society
Certifications
MBBS, MRCGP
Languages
English
Specialties
Mental Health, Men's health, Pain Management
Please note that information on this page has been provided by the GP