If you or anyone in your household has any symptoms of Covid-19, please DO NOT book a face to face appointment. Please either book a telephone consultation here, or call 111 for further advice.
« Back to search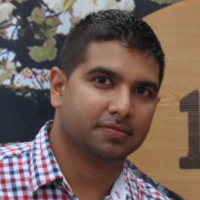 Dr. Rakesh Jivan
Wembley Park Medical Centre
21 Wembley Park Drive, Wembley, London, HA9 8HD
Dr Rakesh Jivan qualified from Warwick Medical School in 2011 and subsequently went on to complete his GP training in 2017. He currently works as a full time salaried GP at Wembley Park Medical Centre and also works in various Urgent Care Centres across North West London. He has a keen interest in musculoskeletal medicine and is able to offer joint injections for certain conditions. He is fluent in Gujarati and aims to provide a holistic approach to his patient centred style of consultations to meet your needs.
Education
Warwick Medical School MBChB 2011
Certifications
MBBS, BsC, MRCGP
Languages
English, Gujarati
Services
Diabetes review, Female medicals, Health screening, Joint injections, Men's health, Male medicals, Women's health
Please note that information on this page has been provided by the GP