If you or anyone in your household has any symptoms of Covid-19, please DO NOT book a face to face appointment. Please either book a telephone consultation here, or call 111 for further advice.
« Back to search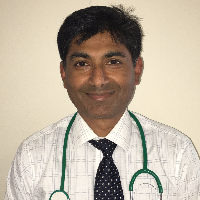 Dr. Alpesh Patel
White Lodge Medical Practice
68 Silver Street, Enfield, London, EN1 3EW
Dr Patel graduated from the medical school at the University of Manchester in 1992 and has been a full time partner at White Lodge Medical Practice for the past 16 years. He has an interest in disorders of the musculo-skeletal system, heart and diabetes. Dr Patel is also actively involved with training undergraduate medical students and postgraduate GP registrars.
Education
University of Manchester Medical School
Certifications
MBBS, BsC, MRCGP
Languages
English
Services
Cervical smear, Diabetes review, Health screening, Joint injections, Men's health, Male medicals, Smoking cessation, Weight loss
Specialties
Cardiology, Diabetes, Men's health, Respiratory Medicine, Rheumatology/musculoskeletal medicine, Sports medicine
Please note that information on this page has been provided by the GP