« Back to search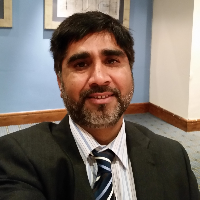 Dr. Naseer Ahmed
Siam Surgery
Community Health Centre, Church Field Road, Sudbury, Suffolk, CO10 2DZ
I have worked in various specialities during my training so been seeing variety of patients for the past 15 years in General practice. I also run minor operation sessions at my surgery.
Education
I qualified from Pakistan in 1991 and was got degree in medicine. Then worked in general surgery / orthopaedics and medicine and moved to UK in 1996.
In UK I worked in paediatrics, general medicine, accident & emergency, orthopaedics and generally surgery.
Completed my vocational training in 2005.
Also got Diploma of the Faculty of Family Planning in 2005.
Languages
English
Services
Diabetes review, Female medicals, Fertility, Health screening, Joint injections, Men's health, Male medicals, Minor surgery, Sexual health screen, Smoking cessation, Women's health
Please note that information on this page has been provided by the GP