If you or anyone in your household has any symptoms of Covid-19, please DO NOT book a face to face appointment. Please either book a telephone consultation here, or call 111 for further advice.
« Back to search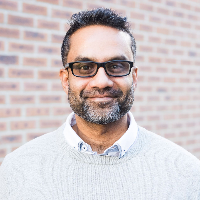 Dr. V Retnasingham
The Groves Medical Centre
171 Clarence Avenue, New Malden, Surrey, KT3 3TX
Dr Retnasingham has been a GP for 10 years, He is a keen traveler and enjoys sports of all types, especially team sports including football and cricket. Dr Retnasingham is also a GP trainer at The Groves Medical Centre and spends time sharing his knowledge with students and trainee doctors.
Education
Qualified in 2001 from U.C.L
GP training complete in MRCGP in December 2006
Certifications
MBBS, BsC, MRCGP
Languages
English, Tamil
Services
Health screening, Men's health, Male medicals, Sexual health screen, Vaccinations
Specialties
Mental Health, Paediatrics
Please note that information on this page has been provided by the GP