If you or anyone in your household has any symptoms of Covid-19, please DO NOT book a face to face appointment. Please either book a telephone consultation here, or call 111 for further advice.
« Back to search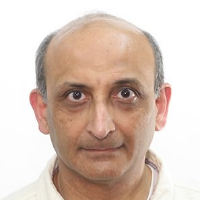 Dr. Bharat Thacker
South Oxhey Surgery
Oxhey Drive, Watford, WD19 7SF
I am a GP for the last 24yeras. I carry out most of GP work including baby check, antenatal, and some minor surgery.
Education
University of Glasgow-medical degree
Certifications
MBBS, MRCGP, DRCOG
Languages
English, Gujarati, Hindi
Services
Ear syringing, Health screening, Joint injections, Men's health, Male medicals, Minor surgery, Smoking cessation, Travel vaccines, Vaccinations, Women's health, Weight loss
Specialties
Care for older people, Child protection/Safeguarding children and Young people, Cardiology, Diabetes, ENT, Family planning, Gastroenterology, Mental Health, Men's health, Paediatrics, Pain Management, Palliative Care, Respiratory Medicine, Rheumatology/musculoskeletal medicine, Travel medicine, Women's health
Please note that information on this page has been provided by the GP